Product Spotlight: Pureology Hydrate
Winter is coming, and for many people that means the start of the dry hair season. Cold outside temperatures and dry indoor heating sap moisture from your hair, especially if it's color-treated and you use heat styling tools.
But your hair doesn't have to stay dry and prone to damage. Pureology Hydrate is one of the best product lines on the market to keep your hair luxuriously soft and your color vibrant at the same time.
Hydrate Products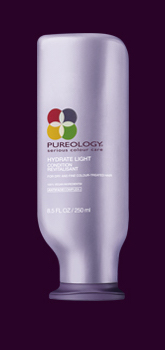 Shampoo
If your hair is dry and damaged, your stylist will probably recommend a sulfate-free shampoo.
This sulfate-free, color-preserving formula comes from natural ingredients like coconut, corn, and sugar. It also includes natural plant extracts of rose, sandalwood, and green tea. This shampoo leaves hair soft, silky, and manageable—and it smells amazing!
Condition
The conditioner in the Hydrate line features ingredients like jojoba esters and shea butter. It's especially good if your hair is lightened or chemically relaxed because it provides deep hydration without weighing your hair down.
Light Condition
If you have fine color-treated hair, this product is exactly what you need. It provides the same great moisture and hydration as the regular conditioner, but without sacrificing your hair's body and bounce.
Shine Max
Got color-treated hair and frizz? Then you really, really need to try this shine serum. It smooths flyaways and eliminates frizz at the same time, and you can use it on damp or dry hair (or even mix it in with your usual conditioner).
Hydra Whip
This is your product if you need a serious moisture solution! Apply this masque to damp hair and leave on for up to five minutes, then rinse. You'll have dramatically improved moisture and amazing shine when your hair is dry.
Cleansing Condition
Have you heard of co-washing (conditioner-only washing)? If your hair is extremely hard to manage, or if your scalp tends to be dry and itchy, co-washing is a good alternative to traditional shampooing. Cleansing Condition doesn't contain any shampoo, but it does have rosemary extract and jojoba oil to leave hair soft and hydrated. Even if you use regular shampoo, try Cleansing Condition between shampoo washes for the perfect, not quite squeaky-clean look.